 Our Sanctuary
Forget Me Not Sanctuary is dedicated to providing a safe, loving, permanent residence for homeless, abused and abandoned cats - cats that are feral, cats with injuries or medical disabilities and senior cats whose owners are no longer able to care for them.

Large numbers of these cats end up forgotten, enduring inhumane living conditions and multiplying in large numbers. They are the cats that are the least likely to be adopted and among the most likely to be euthanized in traditional shelters and animal control services.

Many have been kicked around by heartless humans. Some did have kind, caring owners, but then were tossed out on the street, along with other discarded items, after their owners died.

The mission and purpose of the Forget me Not Cat Sanctuary, therefore, is to provide a safe, permanent residence for these cats who have endured great suffering in their little lives and have never experienced medical attention or a kind pat on the head or a soft, warm fluffy blanket to sleep on. And the purpose also extends to allowing senior cats to live out their lives in comfort and safety when their owners are no longer able to care for them due to health reasons of their own.
A not-for-profit Cat Sanctuary Society that provides a loving home to cats that are feral, old, sick or injured



SENIOR AND DISABLED CATS
Elderly cats and cats with physical and medical disabilities are given special medical attention and living quarters are adapted as required for their special needs. A separate 300 square foot building is being built especially for senior cats and will have a special room for senior cats that have had the misfortune of being declawed.
OUR SANCTUARY FACILITIES

Existing buildings, being a house, garage and several outbuildings, located on 40 acres of rolling farmland in the greater Edmonton area, have been adapted and furnished expressly for the cat sanctuary.

Upon being admitted to the sanctuary, all cats and kittens are given a physical exam by a veterinarian, receive complete vaccinations and are spayed or neutered, if this has not already been done.

The cats' living quarters are furnished with an abundance of cat beds, couches, blankets and cat toys. Scratching posts, carpeted cat condos, walkways and ramps provide exercise, stimulation and fun. Miniature wooden stairs, just the right size for kitties' paws, climb up a pale blue wall, beckoning the cats to venture up into a tiny loft for a snooze. Berber-covered ladders lead the way to other such cozy ledges. Little cat doors show the way to a grassed chain link courtyard criss-crossed with more walkways, ledges and ladders.

Most of the sanctuary's cats live in the Cat Cottage which is an 1100 square foot building which was converted from a three-car garage. It is heated and insulated and has large windows on 3 sides, so it is bright and sunny all year long. During the winter months, the cats follow the sun across the sky, moving from window to window to sun themselves on specially built cat trees and ledges that line the walls.


FERAL CATS
To live in a world of mistrust, never knowing a kind touch, to freeze in winter, to feel constant hunger and thirst is the typical life of a feral. We provide a safe warm place for these unfortunate beings where they can hide if they need to, can explore if they want to, and can be loved from a distance.

Feral cats are not kept in cages, but are provided with plenty of nooks and crannies and curtained hiding places to increase their sense of security and satisfy their need for distance. They co-mingle with the other cats to improve their chances of eventually becoming socialized and unafraid.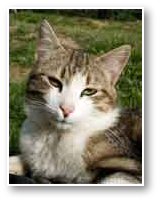 Copyright 2009 - 2013 - Forget Me Not Cat Sanctuary

PLEASE NOTE: Until further notice, we will be unable to accept any further
cats or kittens as our Sanctuary is currently full.